Kruger Publication Papers is excited to introduce Krukote Inkjet – the world's first lightweight, coated gloss inkjet paper made for short-run catalogues, magazines, manuals, direct mail pieces, and inserts for inkjet web presses.
Lighter Rolls. Lower Cost.
Krukote Inkjet's lighter basis weight offers all the quality of traditional inkjet paper to press manufacturers, printers and publishing houses and is an economical alternative to conventional offset printing.
Made in North America. Backed by Kruger.
Manufactured at Kruger's Wayagamack Mill in Trois-Rivières, Québec, on North America's most modern paper machine, Krukote Inkjet works with pigment-based inks to deliver excellent print quality and finishing characteristics.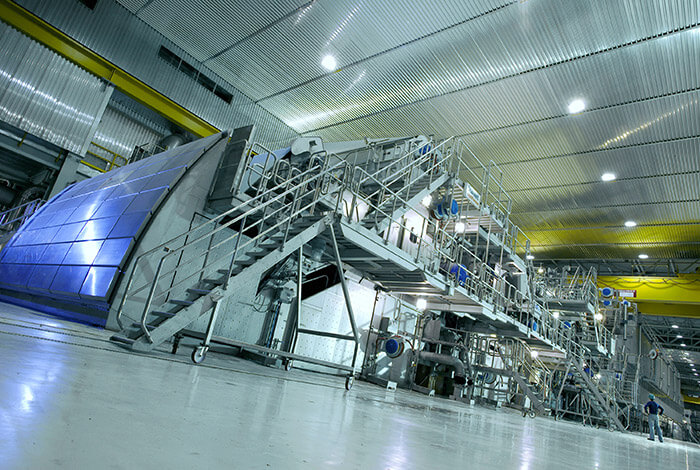 Looks white. Acts green.
Our exclusive inkjet paper comes in a brightness of 80 ISO, but also offers the unique advantage of being 100% deinkable and completely recyclable with current recycled paper furnishes.
Best of all, Krukote Inkjet is HP Media certified and it's the only lightweight coated paper ever to receive a Kodak Diamond rating.
Krukote Inkjet paper advantages at a glance:
Lower mailing and shipping costs for our customers
Cost competitive
Comparable in strength to other papers
Excellent print quality
Non-reflecting gloss – easy on readers' eyes
FSC® & Green certified
Outstanding finishing characteristics
Great alternative to conventional offset printing
INGEDE Method 11 tested and approved
100% deinkable and recyclable
Media certified by HP
Recipient of Kodak Prosper 4 Diamond rating
Press manufacturer runnability qualification
38# to 60# basis weights (56.24 gsm to 88.8 gsm)
Available in 80 Brite